Scaling the impact of design, for the bravest of Aotearoa's organisations.

If the past decade has taught us anything, it's that organisations need to continually deliver experiences that exceed customer expectations. They also need to build a culture that enables them to be resilient in the face of disruption. Those who have been successful have been deliberate and disciplined in their approach.

Independently of our lab-based and remote UX research services, we help a select group of enterprise design leaders to shape and scale the impact of design. We do this by providing them with regular access to our state-of-the-art UX lab, coupled with capability enhancing coaching and ongoing members only events.

Membership isn't right for every organisation and is strictly limited. If you're serious about growing the impact of design, by de-risking design decisions and creating a culture that is supportive of learning with customers, then read on to find how it works and what outcomes you can expect. If not, watch this clip of Jared Spool.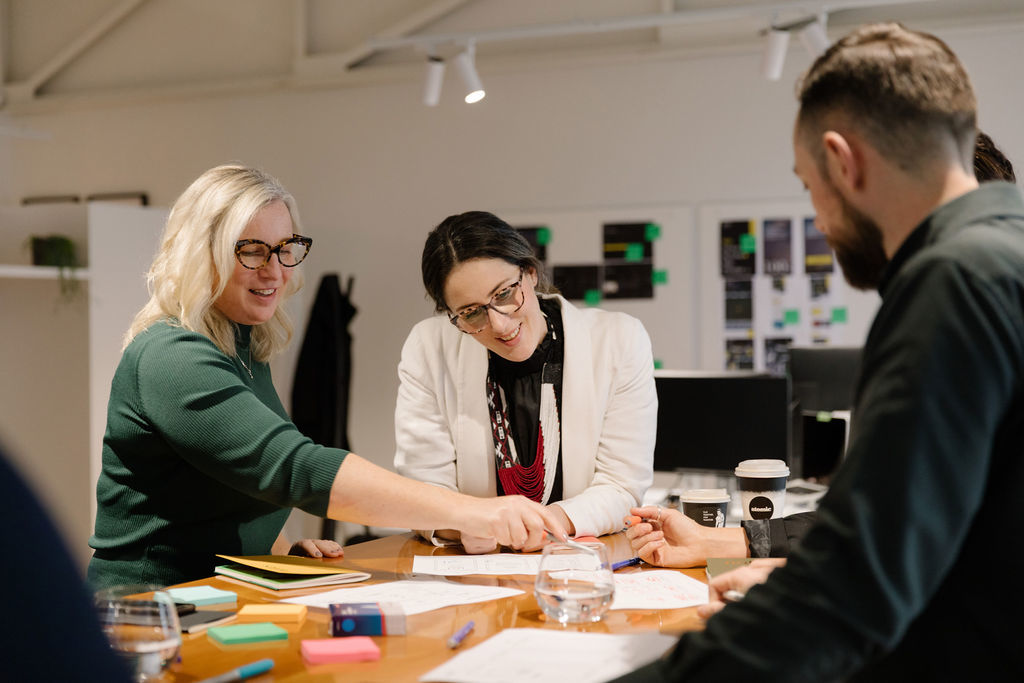 How it works
We offer a range of membership options, each designed to help design leaders at various stages of building their research practice. All memberships involve your team engaging in the following monthly activities:
1. Reserve your day
Choose a day (or days) that fit with the discovery cadence of your product. Having a set day each month focuses you on making the most of it.
2. Plan the test
Decide what you need to learn and how you're going to learn it, then write the script that will help you to find answers to those questions.
3. Prepare your design
Whether it's an existing product or a prototype that you're testing, you'll need to get it into a state where participants are able to use it.
4. Recruit participants
Find and schedule the people you need to learn from. You can either do this yourself or with an existing partner, or you can work with us.
5. Pilot the script
Check your script for flow and timing, and make refinements before the day. Your membership may give you access to the lab to do this.
6. Run your study
Bring your team and people across your organisation to the lab for a day of learning with customers. Engage their hearts and minds.
7. Make decisions
Review your observations and choose what to change in your product. Make the changes and then get ready to do it all again next month.
Outcomes
Our lab memberships are designed to give you:
Cost and risk reduction
We'll admit that doesn't sound terribly exciting, until you think about what it costs to make and support products that your customers don't value, or find frustrating to use. Learning of issues early, when it's relatively inexpensive to course correct, is smart design and good for business.
More satisfied customers
Better UX design directly results in higher levels of customer satisfaction. If you're already measuring how customers feel about your business, then regularly involving them in the evaluation and shaping of experiences gives you the insights you need to drive NPS up even further.
Stronger design capabilities
Surfacing reliable insights from customers is a skill. There are many ways to invalidate findings and these weaken the confidence stakeholders have in your decisions. We provide impartial and expert coaching to your team, giving them the tools and techniques to capture reliable data.
Healthier design culture
Great design leaders know that the success of design relies on people from across their businesses seeing and believing in its value. When design happens in silos it does no one any favours. Give people a reason to get out of the office and into a place that's designed for collaboration.
Scalable impact
When you regularly evaluate your products with customers, you can more easily quantify and demonstrate the value of design. As belief and support for your efforts grows and you seek to scale your efforts, access to the lab and its associated capability building features can scale with you.
Momentum during lockdown
Aotearoa New Zealand's public health response to COVID-19 may mean it's not possible to access the lab. Should that be the case, we have a remote-friendly contingency plan for your membership that ensures your research is not disrupted and you're able to keep learning with your customers.
Working with The Space InBetween has been extremely valuable. Their expert facilitation gives us great insights into how people experience our products, enabling us to make them better, faster. The team always leave 'the lab' fizzing and aligned on what needs to be done and why.
Lewis Billinghurst
Head of VenturesRedbird Ventures